Tafner Family Reunion
November 19th was a special date for the Tafner Family. For the first time, the descendants of Angelo Tafner,  immigrant and patriarch of the Tafner Family in the state of Santa Catarina, reunited to celebrate his legacy.
Family and friends gathered for the reunion in the Santo Antônio community, in the small city of Rio dos Cedros (Santa Catarina – Brazil). The choice of this location didn't happen by chance: this was the very place where Angelo Tafner – alongside many other immigrants – settled with his family after leaving the town of Mattarello (Trento – Italy) in the 19th century.
Tafner Family's Book Released
In March 2017, the book "Família Tafner: surgimento e trajetória, na Europa e no Brasil" was released. (In English, "Tafner Family: emergence and trajectory, in Europe and Brazil" – no English version available)
The book was authored by Maria Antonietta Bellato Tafner, Olívio Taffner and Andrey José Taffner Fraga, sponsored by prof. José Tafner and prefaced by Alberto Tafner – current president of the Associazione Trentini nel Mondo (based in Trento, Italy).
In 1995 in Trento, Italy, Maria Antonietta Bellato Tafner gathered the first records that would ultimately shed light on the origins of the Tafner family. On the night she celebrated her silver wedding anniversary, she and her husband Alberto Tafner presented her extended family with her findings. Through her efforts, the history of the Tafner family was recorded for the first time.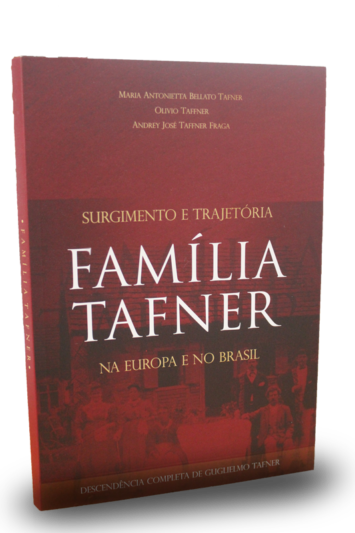 History of the Tafner Family
Tafner is a surname of Germanic origin, linked to the ancient word Tauf that means abyss, cliff, steep path between mountains or canyons.
The surname is widespread in the Alpine region of German-speaking countries including Germany, Austria and Switzerland. In Italy, it only exists in the Trentino-Alto Adige region.